As someone who thinks that humans are capable of an economic system far more stable, equitable, and sustainable than capitalism, I haven't spent that much time thinking about what a socialist economy would look like in my every day life. When I say socialism, I mean a democratically-managed economy, where the industries and services we all need (like power, the mail, and healthcare) are owned by all of us. But what about businesses? Many internet critics that rail against the evils of socialism and communism conjure up these drab, grey pictures of people waiting in breadlines and a massive unaccountable bureaucracy. And I have to admit – the image is certainly not the kind of world that I want to live in. But are they correct that a democratically-managed economy must certainly turn into such a dystopia? I have been a critic of capitalism for more than twenty years, but I haven't seen that many descriptions of a post-capitalist economy that really get me excited. Not that they don't exist – Cooperation Jackson and the World Social Forum immediately come to mind – but they never really make it out of niche circles of activists and into the world of cable news. So I decided to lay about daydreaming what it might look like.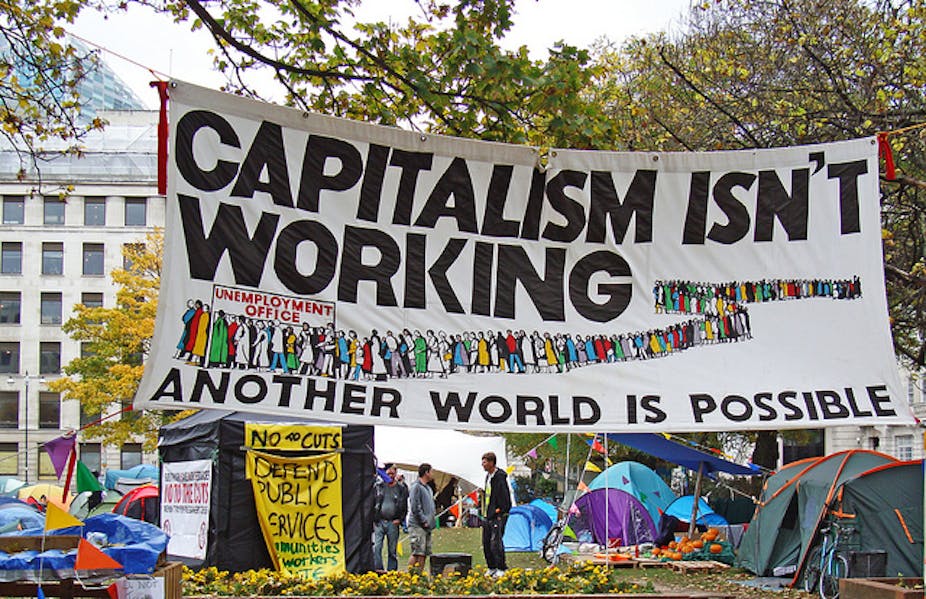 In another life, I ran a kitchen-based baked goods business. I made all kinds of delicious confections – chocolate-espresso brownies with hazelnut buttercream, custom birthday cakes, and chocolate peanut butter cookies to name a few. I really wanted to have a "real" business one day, a cute café where people would meet their friends or order a special cake; something where I'd have a few employees and all of us would share the profits after expenses/rent/loans/etc. I didn't have much money to invest, but I had my skills and a good credit score – why shouldn't I just be an entrepreneur?? A small business owner. The problem is risk and the very real threat of economic oblivion in the event that the failure. And for restaurants, the rate of failure is stunning: sixty percent of restaurants don't make it past their first year and 80 percent go out of business within five years. I had $80,000 in student debt and no trust fund or rich spouse to fall back on. Some of you reading this might assume that I have low self-esteem or that my product just wasn't that good. I can assure you that neither of those are the case. I made a rational decision based on the information available to me and concluded that there were too many uncertain variables weighing against the small chance of success. I think we can all agree that desserts and baked goods are not socially necessary in the sense that one can lead a pretty ok life without having access to them. But they are a social good – a means of treating oneself to something delicious or celebrating a loved one. What about a bake shop under socialism?
Under the current system, I – as a potential business owner – write up a business plan, secure a loan, contract with a landlord for space, and invest my own money into equipment and making the space attractive to potential customers. I must either know in advance about marketing, or else pay someone to do it for them. If the business takes a long time to start making money, I will have to take on more debt to be able to stay open and pay employees, driving down the wages and forcing employees to "do more with less". If another bakery selling pastries were to open up across the street, there is nothing I could do about it. Even if they offered similar items at 1/3 the price because that other owner had a rich parent or patron keeping them afloat, there is nothing I could do to compete besides lowering my prices or investing even more money into advertising. If my business fails during the second year of my 5-year lease, I still have to pay all of the rent for those five years. If after five years of steady growth and building relationships with customers my landlord decides to double my rent, there is nothing I can do. I have to pay or I have to leave the space (not to mention all the capital they invested into it). The business owner is forced to absorb all the risk without any guarantees. So what? Just file for bankruptcy and start over again in a few years. [Insert eyeroll].
Opening a bakery under a socialist system would look a lot different because the goals of the economy would be different. How many times have you decried the existence of a Starbucks across the street from a Starbucks, around the corner from another Starbucks? This is how our space is organized under capitalism. Does there need to be three of the same shitty coffeehouses within a square mile? Probably not. But under the current system there isn't much that people in the neighborhood can do. There are always "planning meetings" and other liberal urbanist practices that purport to give regular citizens more power, but they are by and large toothless entities that write reports and make suggestions. This is why there are entire neighborhoods where you can't buy fresh produce. Under socialism, our space would be planned by accountable people who work for the taxpayers. Under capitalism, the free market decides and those with the most capital to invest will always win. Under socialism, the taxpayers would own commercial real estate, protecting the business from money-hungry landlords or, conversely, protecting building owners (not talking about hedge funds or investors here) from huge jumps in property taxes. If the citizens own the property and want to make sure the business is successful, perhaps the business wouldn't have to start paying their cost-share (formerly rent; now a monthly fee used to start-up new businesses) until they start making money consistently and sustainably. A democratically organized economy by its very nature would want to help businesses survive and to keep neighborhoods stable because it supports human flourishing. These are just a couple of the infinite ways we could decide to organize our economy if we the people actually had power…we have the power.
How many times have you decried the existence of a Starbucks across the street from a Starbucks, around the corner from another Starbucks? This is how our space is organized under capitalism. Does there need to be three of the same shitty coffeehouses within a square mile? Probably not.
The beauty of imagining the future is that we can imagine it however we want. We make the rules. If we say we want a socialist economy, that means we have the freedom to imagine all kinds of new economic relationships that favor democracy, justice, equity, and social cohesion. There's no reason that a socialist economy would look like the USSR – we have access to far more knowledge, research, and stories from people on the ground than there was at the time of the Russian Revolution. Even as they advances in communications technology have created a lot more trash and toxic waste, the ubiquity of smartphones in the world today is a democratizing force that has been underestimated by the "communists want to steal your house" crowd. Just look at the pro-democracy protestors in Thailand – they have been able to organize and mobilize at a massive scale in just a few months, making use of social media to spread news about protests and memes that repeat the movement's symbols and demands. They demand democracy and a new constitution, in spite of the fact that there has been a military coup there about once every seven years since the end of absolute monarchy in 1932. We are capable of creating new kinds of economic relationships that favor human development over shareholder growth. The future is ours to write. If you could organize the economy for the benefit of us all, what would it look like?